IPL (Intense Pulsed Light) has long been the go-to method for those who want to easily eliminate unwanted hair follicles.
Without pain and discomfort that traditional waxing and sugaring can often result in.
The Ciao Hair Pro™ professional hair reduction has been clinically proven to deliver long-lasting visible results in just 3 weeks. A
We offer a full-body treatment in just 30 minutes, just once a week, for a fraction of the cost of a salon visit.
Ciao Hair Pro™ IPL provides safe and effective at-home hair removal without any damage to your skin or long-term side effects.
The handheld device works effectively on any body part including the face, bikini line, Brazilian area, arms, legs, feet, chest, stomach, back, and even the back of the neck.
Ciao Hair is your all-inclusive hair removal solution. Risk-free 90-day money-back guarantee included.
How it works
Our IPL device uses a powerful, yet safe, pulsed light technology, using a combination of safe light wavelengths and high intensity, to destroy unwanted hair follicles.
IPL emits light energy that is absorbed by the melanin in the hair follicle, turning reactions to heat to destroy the hair cells.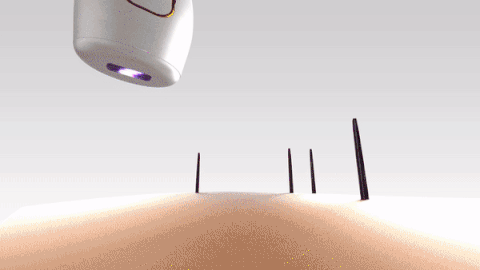 How to use
 ✓ Please shave the area to remove the hair from the skin surface that you are planning on treating.
✓ Plug
the handset into power,
pressing quickly the power button
on the rear of the handset, will turn it on.
✓ Increase intensity
by pressing the power button again until the desired level is obtained.
✓ Place
the device's head flat against the skin and
press the big button
on the device's front.
✓ Clicking once and
moving around the area
is a good way to proceed, making sure not to miss any spots.
✓ Repeat
once a week for 12 weeks to see the best results for this treatment.
Does it hurt?
IPL is one of the most efficient forms of hair removal as it is basically painless. 
The sensation experienced can be described as a warm one on its users' skins. 
IPL is less painful than laser hair removal mainly because it is less intense. 
Every person's degree of tolerance for pain is different based on their body type.
Is it safe?
Many clinical studies of IPL for hair removal have shown it to be safe and effective. The light emitted from an at-home IPL machine is less concentrated than salon treatments. And you can enjoy their use in your home, as long you are following the manufacturer's guidance.
What's included?
Begin a journey towards a smoother you with the Ciao Hair Pro home handset:
Guarantee
You are not satisfied with the handset? No probs!
We are committed to providing our customers with a guarantee of our devices, so you don't have to face any risks when you decide to choose Ciao Hair products.
You will enjoy a 1-year warranty on your handset, for full protection at all times!
Your handset has passed certification standards for safe use, you know you can trust the quality of your product.